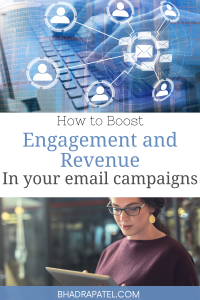 Email has become a mainstay in the world of online marketing.
To Boost Engagement and Revenue with your subscribers you
need to employ the latest strategies which are being used by top email marketers.
Here's How:

1. Newsletters
Newsletters have long been the cornerstone of any email marketing strategy.
Email newsletters are 40 times more effective in acquiring new customers than Facebook and Twitter combined.
Using your newsletters to curate bite-sized news and industry updates is a great way to add value to your subscribers.
By including summaries of stories and linking out to respected sources, you can instantly offer information that's captivating, and relevant.

2. Include User-Generated Content Into Emails
One of the simplest ways to get more organic traffic and convert
more customers is by including user-generated content in your emails.
Users are more likely to believe in a service or a product if they can see positive customer feedback from a wide range of people
Consider incorporating customer reviews, poll results, or photos
of your customers using your products/services in your emails
with a handy CTA button to increase trust.

3. Mobile Optimization
With 51% of people across all demographics using a mobile ..
..application to check their email, it's very important that all of
your customers have the same great experience..
when viewing your email – no matter where they check it!

4. Email Personalization
Email recipients are 26% more likely to click on a message in
their inbox if it includes a personalized subject line,
while personalized calls to action are two times more effective than generic calls to action.
Customer appreciation Email may include:
Personalized birthday messages with discounts
Early access invites
Thank you emails

5. Social Integration
With an estimated 3.2 billion social media users worldwide,
more and more brands are beginning to integrate social media
into their email marketing campaigns.
Social integration can be a great way to stay relevant, stay connected, and grow your social media following.

6. Plain Text Emails
If you want to get your message across plain and simple
text-only emails are popular because..
.. they feel more personal, like an email you'd send a friend
Use them when you're looking to get a little personal or trying to connect with your subscribers on a deeper, more personal level.
7. Accessibility
Making your emails accessible to everyone is perhaps the most
an important trend to keep in mind when planning your campaigns.
It's crucial to ensure everyone can not only receive but understand your message
A trend that's absolutely dominating graphic and web design
trends at the moment, Dark Mode is a great step towards creating accessible emails.
Dark mode is easier on the eyes, and also increases contrast to help lighter-colored objects stand out.
Using some or all of these techniques will boost engagement and revenue.
Let me know how these ideas turn out for your campaigns
Want to learn even more? Join former factory worker turned million-dollar marketer, John Thornhill, as he reveals his proven system for building your own successful online business.