Building an email list is one of the best tactics you can use for online success.
Email sent to a list that you've built allows you to communicate directly with people who have requested information from you.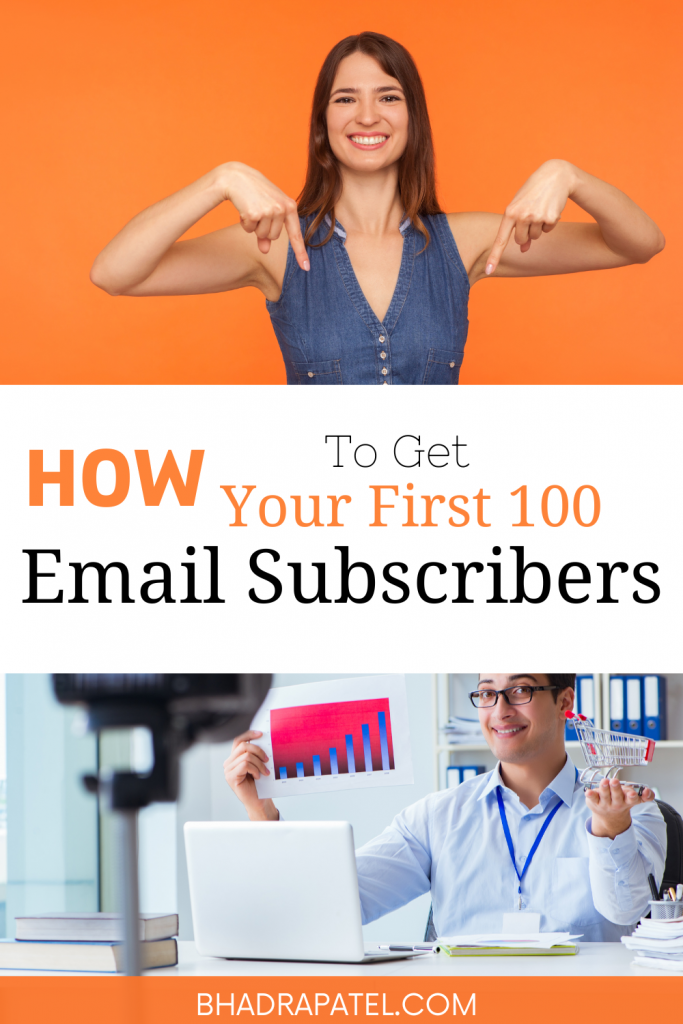 Here are some ways to get your first 100 subscribers :
1. Set Your Email Signature (In the public domain emails you use.)
Since you already have a relationship with the people on the other side of those emails..
..you're sending (even if it's not a very deep one), they're more likely to be engaged with what you're doing.
In  your email signature, make the call to action to opt-in to your opt-in offer
2. Create Social Systems Connections
First, set your social media bios to drive traffic to your landing page or opt-in:
Then, create social posts just to drive subscribers. Sell your opt-in offer just as much as you'd sell content.
You can post this regularly on your social accounts
3.Tap into your Network 
Send out an email or even a Facebook message to your friends, family, and everyone you know who might want info on what you're doing and ask them to sign up.
Also ask them to send a friend who would be interested in your topic to your landing page, too.
4.  Buy Traffic and send it to a Landing Page
If you have a small budget to work with, running Facebook ads to a piece of high-value content..
..and targeting highly relevant audiences (maybe those who like a competitor's Facebook page)
can be a cheap, effective way to grow your list much faster.
You don't need to spend more than $5/day to get a decent return if it's targeted properly.
5.Give Something Away
Giveaways are one of the best strategies to grow your email list quickly and cheaply, hands down.
They worked to get my friend Wayne 2,000+ email addresses in just 3 days. And if done properly, they can work for you too.
Choose something extremely high value to give away to your audience that they'll not only really want, but that's specific to them.
Promote the giveaway on giveaway submission sites, social media, through influencers, and on your website.
Make it mandatory to sign up for your email list to enter the giveaway.
6. Guest Blogging. 
Guest blogging can be an incredibly effective strategy,
but it will only work if you can identify popular blogs
within your niche that accepts guest posts.
On top of that, you need to ensure that you're providing these blogs with great content that provides a unique perspective of things.
When the guest post is accepted, you'll often can  create
something known as an 'author bio.'
In this section, you can mention that you have some complementary content available with a link
No matter what the niche, the best kind of content tends to be actionable content.
So Go ahead,
Apply these techniques and let me know.
Cheers
Bhadra Patel
https://succeed.bhadranews.com/
Want to learn even more? Join former factory worker turned million-dollar marketer, John Thornhill, as he reveals his proven system for building your own successful online business.