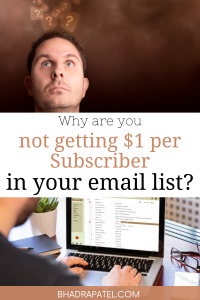 You have heard  Gurus say that they make a minimum $1 per subscriber per month.
If you have an email list and are wondering why it is not bringing in those magical dollars,
Then let me show you 7 ways to make money with your list. 

1. Affiliate Marketing
. With Affiliate marketing, if someone buys a product with your link, you will receive a commission from it.
Instead of selling your own products and services to your email list,
you sell someone else's products that are a great match for your audience and get a commission.
Here are some Affiliate Networks you can look into.
ClickBank, JVZoo
Rakuten
Amazon Associates

2. Sell Ads in your Email Newsletter
If you have a big email list, with 2,500 subscribers or above,
you can sell advertising space in your newsletter and charge big bucks for it.
In your emails, add a couple of lines reviewing a brand's product or service with a link to their page and get paid.

3. Create a Paid Subscription Model for Premium Content
A Paid newsletter as a form of making money has been around for a long time.
Why not charge a monthly for people to get the content they want,
If it is saving them time, making them money, or helping them in a big way,

4. Start Coaching
If you have  knowledge in a specific niche or subject,
then offer paid coaching/consulting
to your email subscribers.

5. Rent or Sell your Email List
To Make Quick Money, Renting or selling email addresses is one way to monetizing your email list.
For example, For online marketers, you can join UDIMI as a solo ad provider.
UDIMI is  a solo ad network where you can purchase solo ads from providers,
see reviews and amount of sales other people are getting when purchasing a solo ad.
Businesses are always on the lookout for email lists with legitimate subscribers to purchase or rent, and that's where you come in.

6. Sell your own product 
You can create a digital product anywhere from five to fifty dollars to start with.
It could be a special report, mini-email course, or a guide which you can sell for a low ticket price.
So even if it's a low figure like five dollars you're still building a list of buyers, people who paid you money.  You can then sell them higher price items later on via your email campaigns.

7. Offer a Service 
You use your email as a way to advertise a service if you have one.
For example, if you are a good content writer looking to write for other bloggers,,  you could write an email to your list saying that you offer a service and are looking for clients.
Now get out there and make some money!
Let me know how it went.
Want to learn even more? Join former factory worker turned million-dollar marketer, John Thornhill, as he reveals his proven system for building your own successful online business.